FLÖGE, EMILIE
13 September 2022
EMILIE FLÖGE, WAS THE CREATOR OF THE UNSTRUCTURED HIPPIE FASHION WAY BEYOND THE TRENDS OF THE TIME.
Emilie Louise Flöge (30 August 1874 – 26 May 1952) was an Austrian fashion designer and businesswoman. She was the fourth child of the master turner and manufacturer of Meerschaum pipes, Hermann Flöge (1837–1897). Emilie had two sisters, Pauline and Helene, and a brother, Hermann.
Her first job was as a seamstress, but she later became a couturière. In 1894, Pauline, her elder sister, opened a dressmaking school and Emilie worked there. In 1899 the two sisters won a dressmaking competition and were commissioned to make a batiste dress for an exhibition.
DEBUT OF SCHWESTERN FLÖGE
Coco Chanel is often praised for revolutionizing fashion and being one of the first women entrepreneurs to do so. However, this isn't entirely true.
In 1904, along with her sister Helene, Flöge founded the fashion salon Schwestern Flöge (Flöge Sisters). Something extraordinary, considering it was managed by three women in their 30s in an otherwise patriarchal world.
In an era of functionality and boundaries, the store was what you would call today a concept store. Designed by Josef Hoffmann, the store was furnished with sleek, adjustable mirrors; geometric, carved wood chairs; and black-and-white chequered tables. Inside, they also displayed alluring art objects that were not for sale, including lapis-lazuli inlaid boxes, tortoise shell combs, marbled paper notebooks, silver chalices, and hand-carved wooden dolls.
RISE OF HIPPIE FASHION
Corsets and tight-fitted bodice constructions were the norms of the era. Emilie had no interest in the constraining designs and portrayed freedom through her collection. Her designs often followed the style of especially loose, patterned dresses in the reform style (a movement also called Victorian dress reform). This style was promoted by the feminist movement in Vienna and was characterized by high bodices, a loose silhouette, and billowing sleeves. It was thought that this type of dress was better for women's health and allowed for a greater range of movement.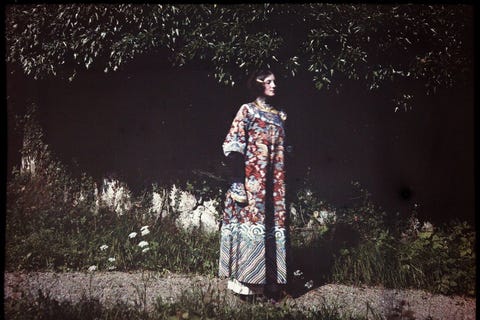 GUSTAV KLIMT
Her fearless, unconventional nature was not limited to her career alone. Notably, in her personal life too, she was breaking boundaries of conventional societal norms.
Flöge and Klimt in Schörfling am Attersee, taken by Heinrich Böhler, 1909.
Choosing to never be married, she remained the life companion of the painter Gustav Klimt. She was often the muse of his paintings and artwork. They collaborated on various projects together and contributed largely to each of their careers.
READ ALSO: