Andrew, Paul
3 May 2023
English designer, born in 1979. Graduated at the Berkshire College of Art and Design, Andrew Paul's career began in the atelier of Alexander McQueen. In his curriculum, also a fruitful apprenticeship with Narciso Rodriguez and Calvin Klein where he creates successful shoe and bag collections.
Paul Andrew: accessory wizard
The United States prove to be a fertile ground for the designer who manifests cosmopolitan skills that allow for a long and sparkling career in Donna Karan's shoes and accessories segment, for over ten years.
A career that probably began on an Italian stage when he won the Accessories Design of the Year award (Who is On Next? 2013 edition) for Vogue. Only a year earlier he launched his eponymous brand which will be sold in the international stores of Saks Fifth Avenue, Barneys New York, Colette, Bergdorf Goodman and Lane Crawford.
Style
His style is architectural and elegant . Clean lines that express luxury and continuous research, an aesthetic richness inherited from his father, who works as an upholsterer for Queen Elizabeth in Windsor Castle.
In September 2016 he starts to work at Salvatore Ferragamo. After putting his eponymous brand on stand-by, he takes the role of creative director of women's shoes. The workaholic Paul Andrew convinces the top management of the Florentine brand, that entrusts him with the global direction of the brand.  He also engages in the women's prêt-à-porter.
For Andrew it is essential to preserve the traditional methods of Salvatore Ferragamo savoir-faire: tradition and innovation as attested by the 400 patents developed from the foundation of the brand up to the present day.
"The clothes were created for women and men who have a large, free and playful sense of their identity and who wanted to show through their clothes that they can be anything they want to be," says Andrew Paul.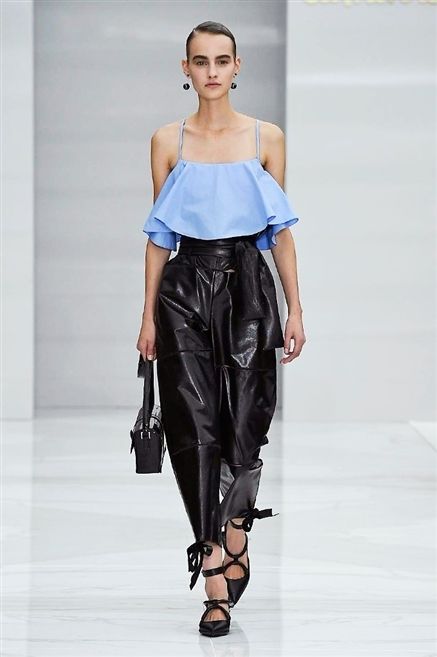 An entirely color block project, made with noble fabrics such as cashmere and leather, dyed by pastel tones.
End of collaboration with Ferragamo
However, the collaboration with the Florentine brand is destined to finish within two years. In May 2021, in fact, the British designer leaves the brand to pursue other professional opportunities.
"I was deeply inspired by the intelligence and technical mastery of Salvatore Ferragamo, a man who, with his genius, built the company, that now bears his name – comments the designer -. It has been an honor to carry on and give new life to his design and innovation's legacy. I will always be grateful for this opportunity, proud of the work we have accomplished, that encourages me to continue creating with integrity and conviction."
You may also like:
To read the item in italian clcik here